Dashboard panel & widgets
Monitor players, server performance, sales and more on customisable dashboard panels, powered by widgets.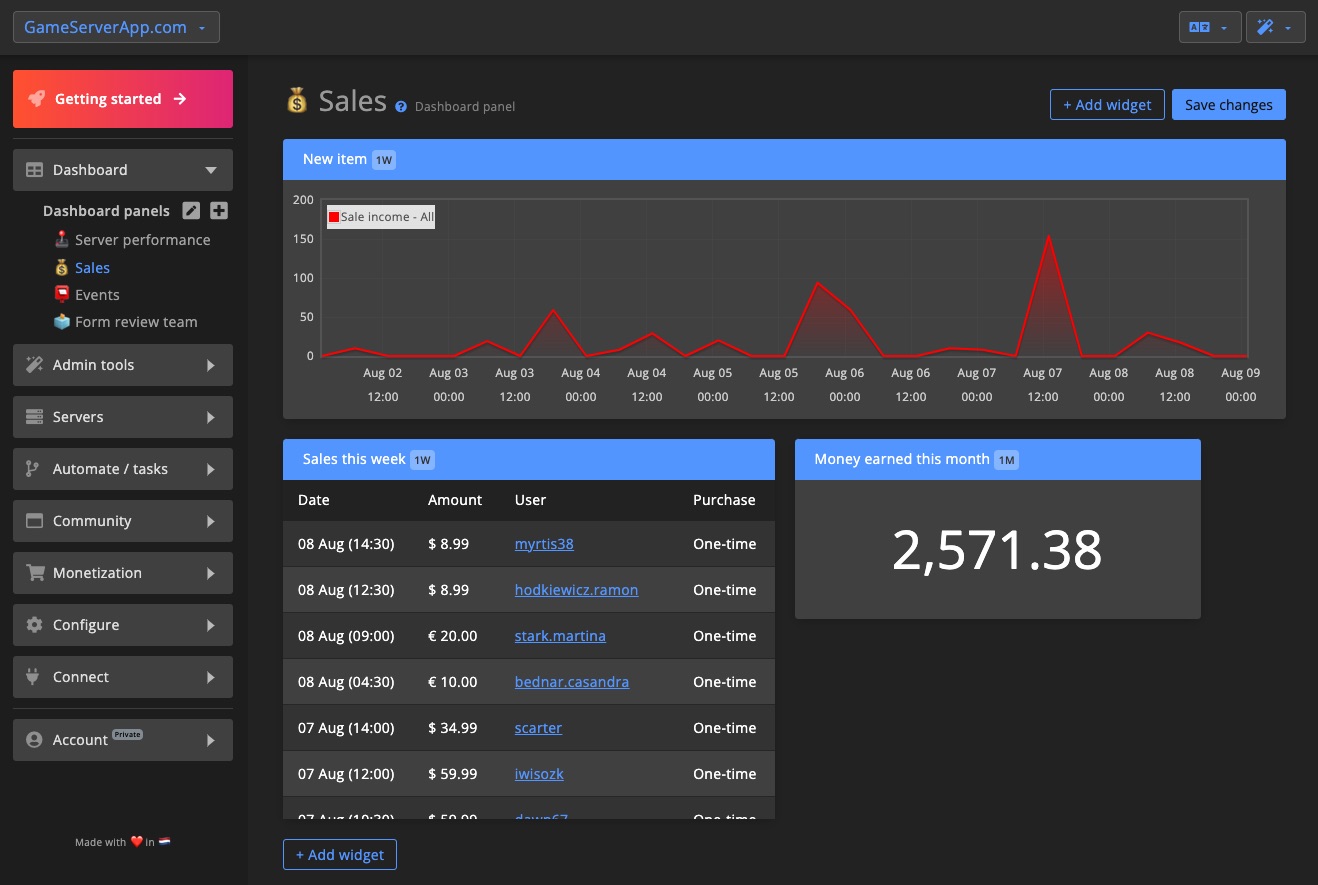 Widgets​
Choose from various graph types and data points. Adjust appearance or position with drag-and-drop controls.
Types​
Choose from various graphs, tables and other widget types.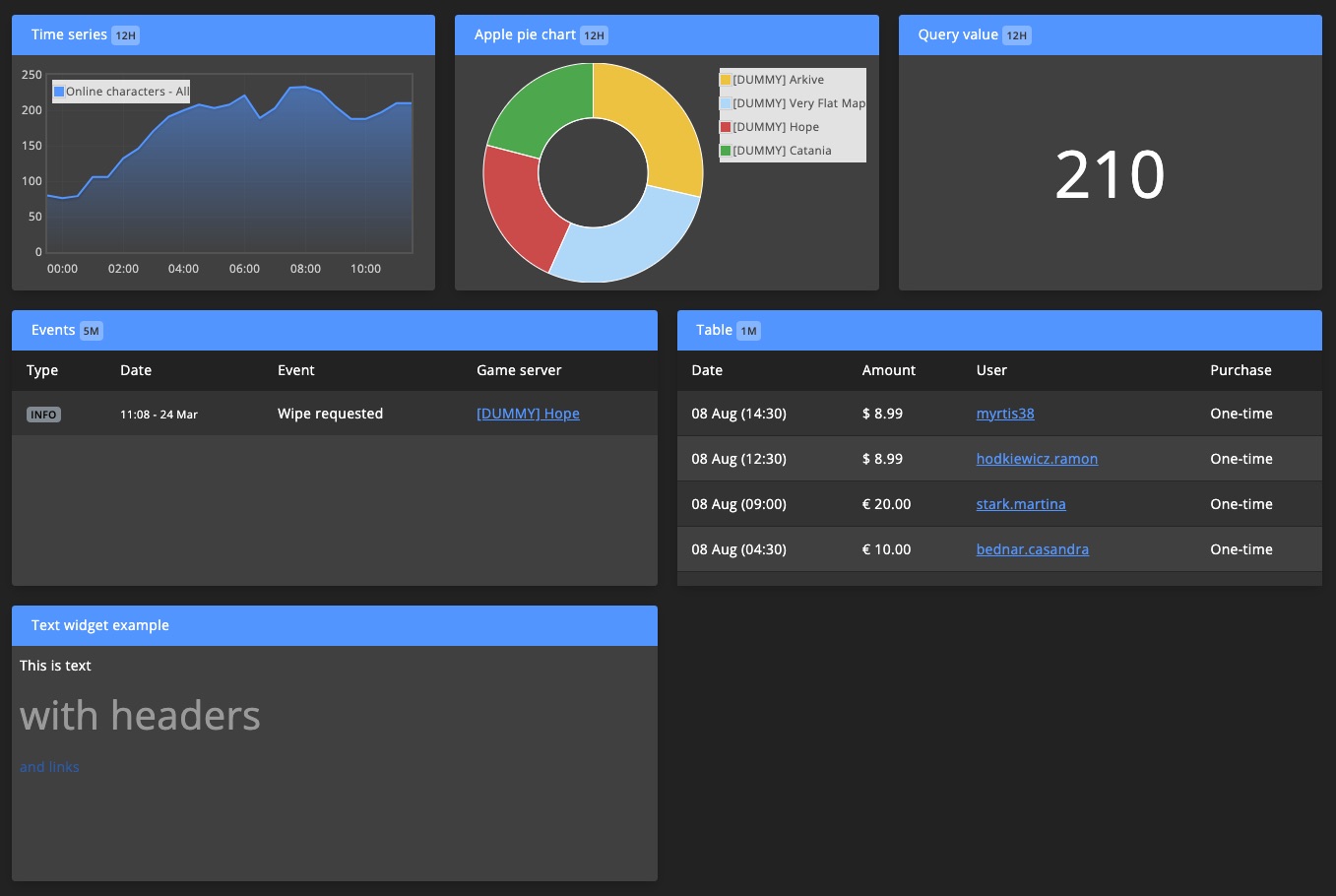 Data sources & filters​
With graph widgets you can combine up to 5 data sources in one widget. Data sources range from: Online characters, sales, in-game FPS, max. ping and much more.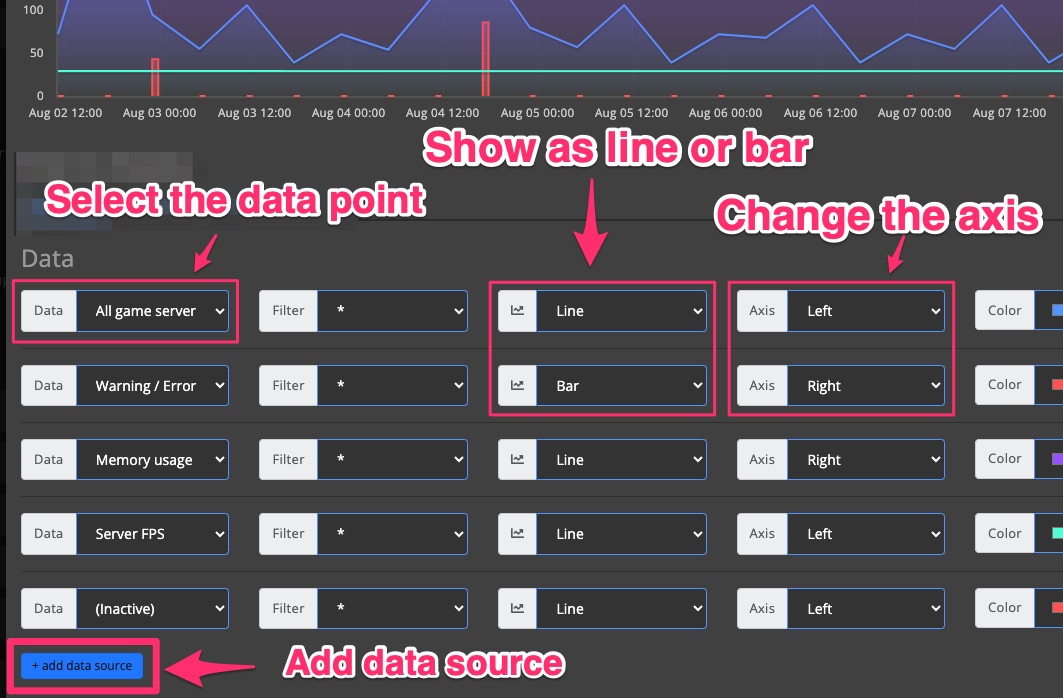 Filters​
Filters allow you to show data for a selection, like a specific game server or all game servers in a cluster etc.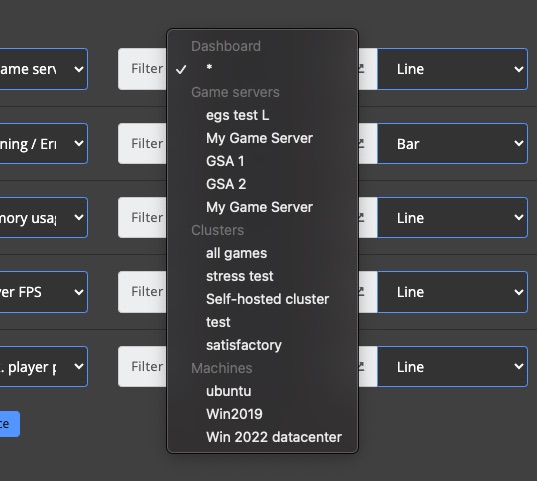 Time range​
Select a time range to control how much data is presented. Smaller ranges generally show more details. Choose from 15 minutes to months.
Caching
All widgets use caching for optimal performance. Widget that display data for a long time range will have longer cache timers (up to 24h). Cache is automatically updated.
Appearance​
Change the widget title or the color of the widget via the Appearance tab.
Controls​
Click +Add widget (top and bottom of page) and choose what type of widget you like to add. See available widget types for more details.

Widget menu​
Open settings, duplicate or delete the widget via the widget menu.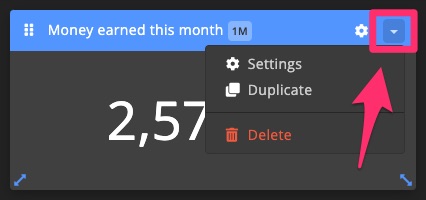 Change position & resize​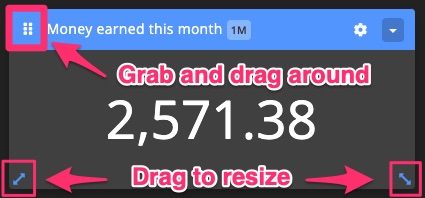 Dashboard panels​
Create panel​
Click next to "Dashboard panels" to create a new panel.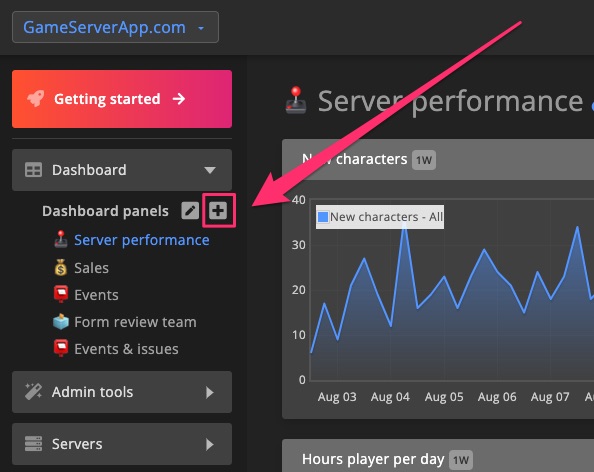 Enter the panel name and hit Add panel to continue.
Quick start
Pick a template or have it copy all widgets from an existing panel as the starting point for your new panel using the Template dropdown. See template examples >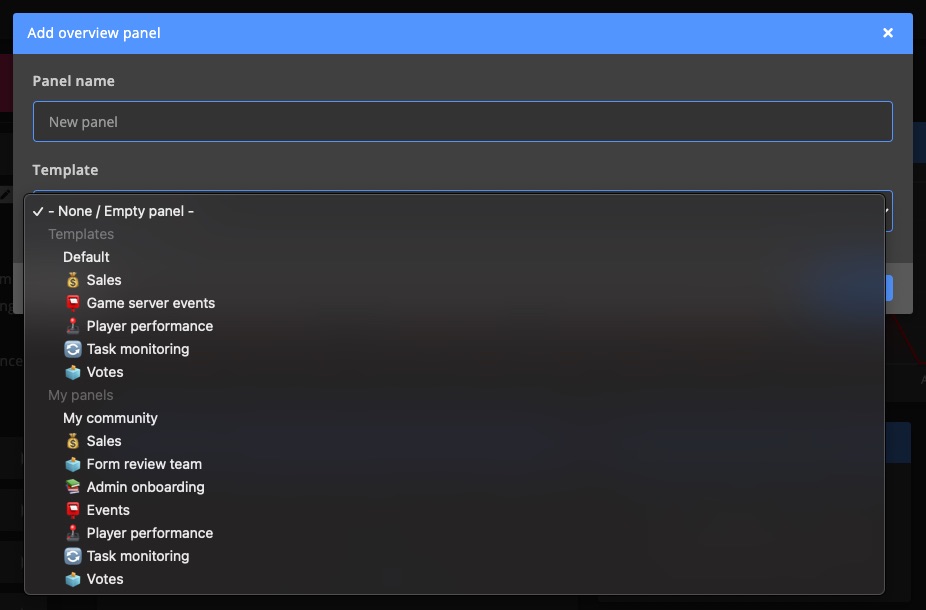 Manage panels​
Reorder, rename or delete dashboard panels by clicking .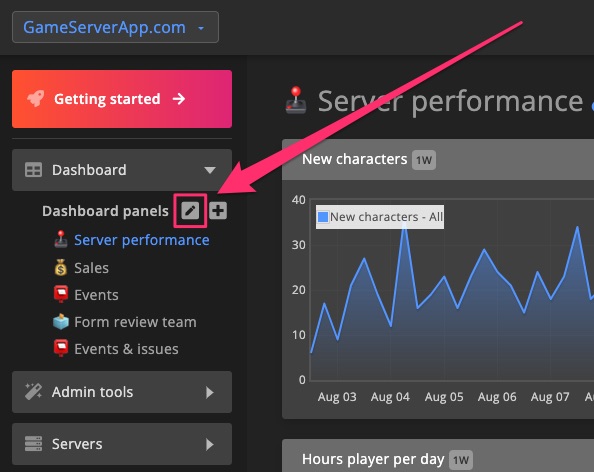 Change Main dashboard
The dashboard panel listed highest in your sidebar is the main panel. When clicking the Dashboard button you will redirect to the main panel.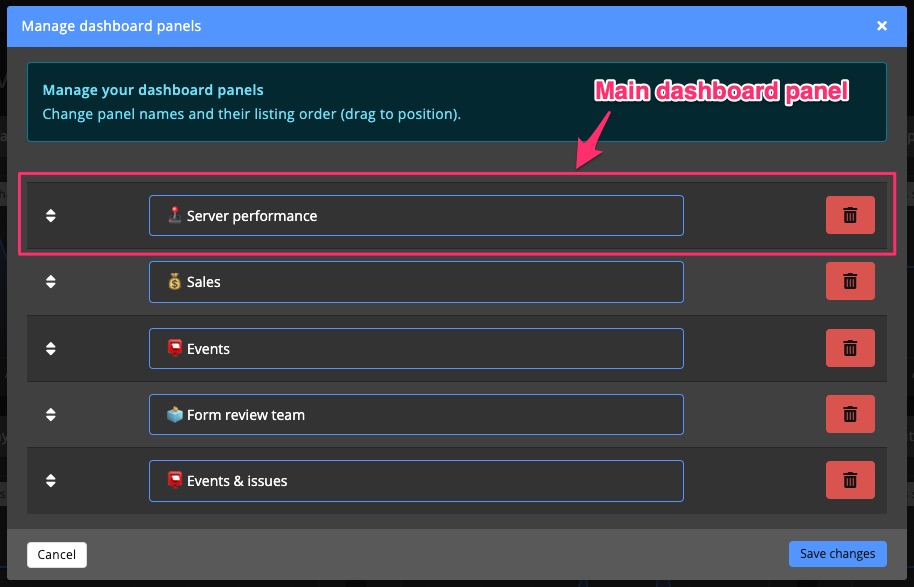 Template examples​
Here are some examples of the Dashboard panel templates you can choose from.
💰 Sales​
📮 Game server events​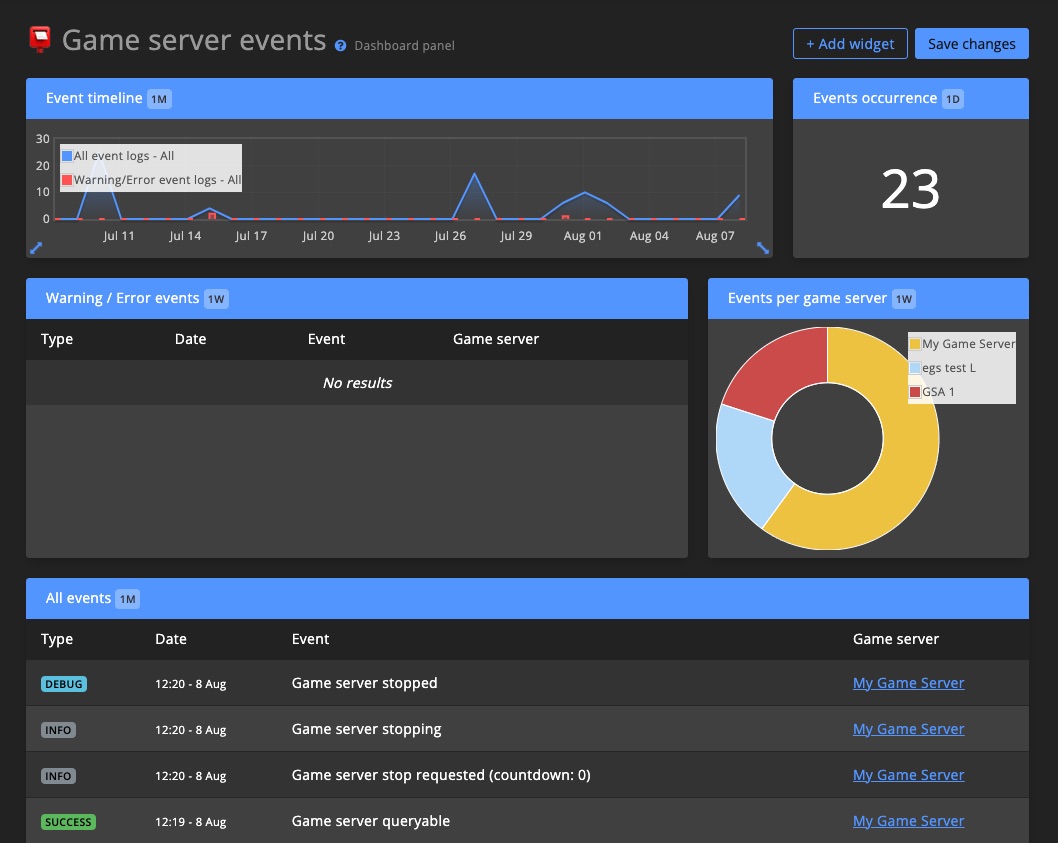 🕹️ Player performance​
🔄 Task monitoring​
🗳️ Votes​